Are you considering building an Aerial Adventure Park? Aerial adventure parks are adrenaline-pumping playgrounds that have become popular destinations for all levels of adventure seekers. Modern facilities can feature a wide range of activities, from challenge courses and zip lines to freefall jumps and giant swings. Aerial adventure parks provide a unique opportunity for people to step outside their comfort zones, conquer personal challenges, work more collaboratively as a team, and build confidence.
If you've ever wondered how to build an aerial adventure park, look no further. In this guide, we'll take you through the step-by-step process of building an aerial adventure park. In short, these are the steps we'll follow:
Conceptualization and Site Assessment
Design and Engineering
Planning and Prefabrication
Facility Installation
Inspection, Certification, and Training
---
Challenge Towers' Aerial Adventure Park Build Process
Challenge Towers has streamlined the process of building an aerial adventure park, offering a seamless experience from start to finish. Their team of experts collaborates closely with clients throughout every phase, ensuring that the final product reflects their vision and provides an unforgettable experience for visitors.
1. Conceptualization and Site Assessment
The first phase of building an aerial adventure park involves conceptualizing the park's overall theme, scope, and target audience. Challenge Towers works closely with clients to understand their vision and objectives and performs a thorough site assessment to identify critical variables essential to the project plan. They meticulously prepare a tailored concept proposal, integrating 3D models, costing estimates, and other key facility details.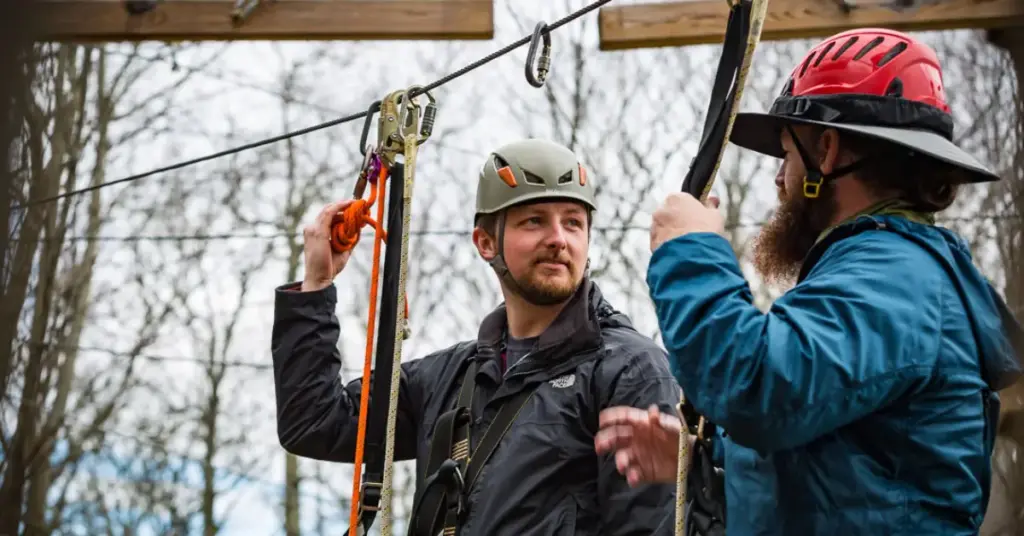 2. Design and Engineering
Once the concept is finalized, projects enter a rigorous design and engineering phase to confirm the structures can withstand anticipated loads and stresses and ensure adherence to industry standards and all prevailing codes and regulations. By the end of the design and engineering phase, Challenge Towers skilled designers will produce a comprehensive project plan encompassing all aspects of the aerial adventure park. Each component is thoughtfully positioned to provide a balanced experience that caters to a wide range of skill levels.
3. Planning and Prefabrication
Challenge Towers' planning and prefabrication phase is a crucial stage where meticulous preparation lays the groundwork for a smooth and efficient construction process. This phase is marked by extensive planning, detailed logistics, and the prefabrication of key components that streamline the installation process. Sourcing materials in advance ensures a steady supply, minimizing delays during the construction phase. Off-site prefabrication allows for precise construction and customization of various components, such as platforms, bridges, and bracketry. This method ensures consistency, reduces on-site labor, and speeds up construction. Challenge Towers meticulously plans the sequencing and assembly strategy to optimize construction efficiency, minimizing the potential for project disruptions.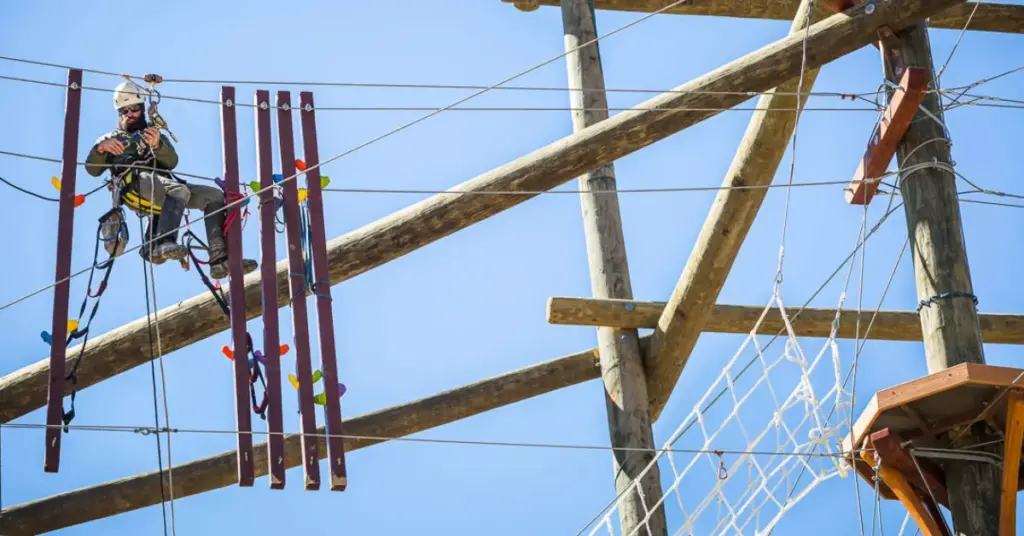 4. Facility Installation
Challenge Towers facility installation is the exciting culmination of meticulous planning, engineering, and prefabrication, marked by dedication, expertise, and attention to detail. With a well-sequenced plan in place, the skilled Challenge Towers team meticulously constructs the ropes courses, platforms, and zip lines, transforming your vision into a thrilling reality. At various stages of the installation, the team conducts comprehensive quality assurance checks. They rigorously test components and systems, ensuring they meet or exceed standards and perform as intended.
5. Inspection, Certification, and Training
Before opening the park to the public, Challenge Towers conducts thorough inspections and testing. This crucial step ensures that all components meet prevailing standards and comply with regulations. Before the grand opening of your new aerial adventure park, Challenge Towers conducts staff training to familiarize your team with the park's features, safety protocols, and maintenance procedures. With the final checkout and staff training complete, the project is officially handed over to you.
Building an aerial adventure park is a complex yet rewarding endeavor. From conceptualization and planning to construction and certification, every step requires meticulous attention to detail and a dedication to smart design and safe operations. With unmatched expertise and experience, Challenge Towers can turn your dream into a reality.
If you're considering embarking on this thrilling journey, review our various challenge course and aerial adventure park facility designs and explore our project calculators for key industry insight.
---
Challenge Towers is an industry trailblazer with a rich history of designing and building innovative aerial adventure parks. The team combines a passion for adventure with extensive knowledge of engineering, industry standards, and project execution. Whether it's a ropes course that challenges your physical limits or a commercial zip line that lets you soar like a bird, Challenge Towers has mastered the art of building unforgettable adventures.