Wait to push your boundaries until after it's built - Challenge Towers can help you get it done right the first time. We have you covered once you're up and running with a range of services to keep you at peak performance including ACCT accredited inspections and trainings, comprehensive maintenance and repairs, and in-depth operational reviews and consulting. Our passion is to help our clients manage risk and maximize reward through high adventure programs and we've been doing it since 1996.
Our team is stacked with industry veterans and experts who have been actively influencing the responsible growth of the aerial adventure industry. Challenge Towers was among the first Professional Vendor Members (PVM) accredited by the Association for Challenge Course Technology (ACCT) and we have a list of industry awards that reflect our passion and commitment to excellence.
PROJECT SPOTLIGHT: The Collegiate School - Richmond, VA
Customized Designs to Fit Your Needs
When the Collegiate School of Richmond, VA wanted to bring high adventure activities to campus, they turned to Challenge Towers to design a custom facility tailored to their site and their audience. The goal was to build a facility that could serve a wide range of age and ability, provide progressive levels of challenge, and be leveraged by classes and integrated with curricula giving students a new way to learn and faculty a new way to teach. That meant that the facility needed to be close to the main campus so the challenge course activities could fit within a standard class block. Limited space on the main campus presented unique challenges that were overcome by Challenge Towers unique approach to facility design.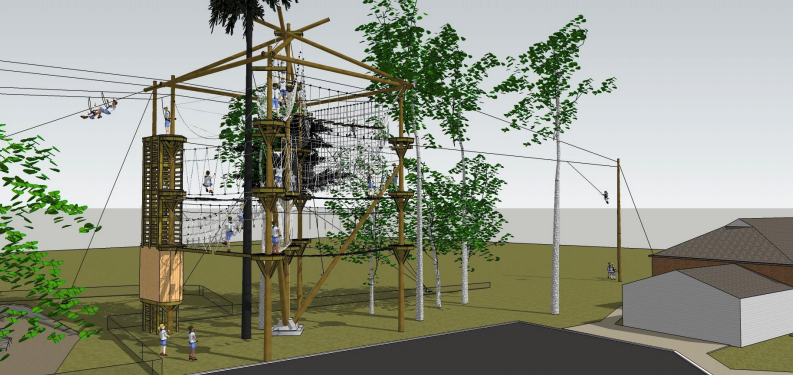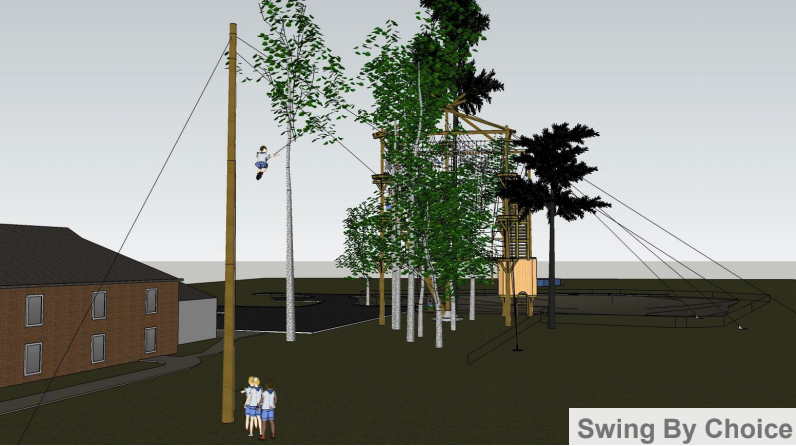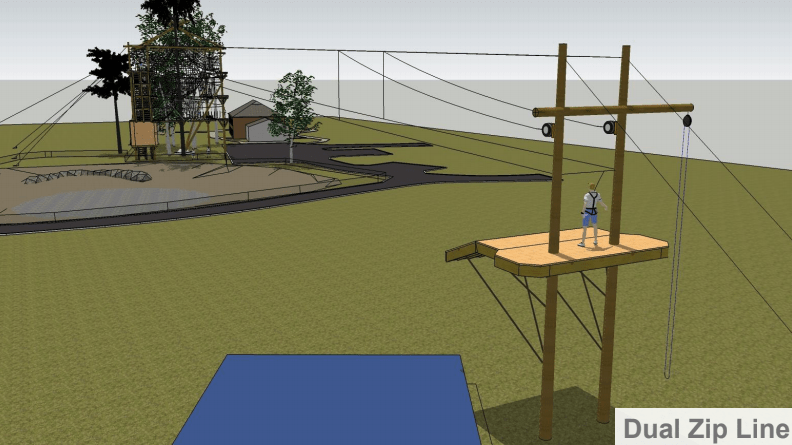 Add Zip Lines, Giant Swings, Climbing Walls, and More
While the selected site was small, the vision was not. The design was to include a comprehensive facility that included a multi-level challenge course, giant swing, tandem zip lines, and low ropes activities. The site was surrounded by athletic facilities, buildings, and paved surfaces leaving a small footprint for installation. The site also contained a stand of trees that offered aesthetic qualities in addition to valuable shade and it was decided that the trees, while not part of the facility structure itself, should remain in place.
The Most Innovative Ropes Course Engineering in the Industry
Challenge Towers got to work modifying our signature Discovery Course design to fit within the limitations of the site without compromising the Collegiate School's programmatic objectives. Proper positioning, specialized bracing, and interlocking top timbers reduced the number of guy cables needed to stabilize the facility and allowed the course to fit within the small site.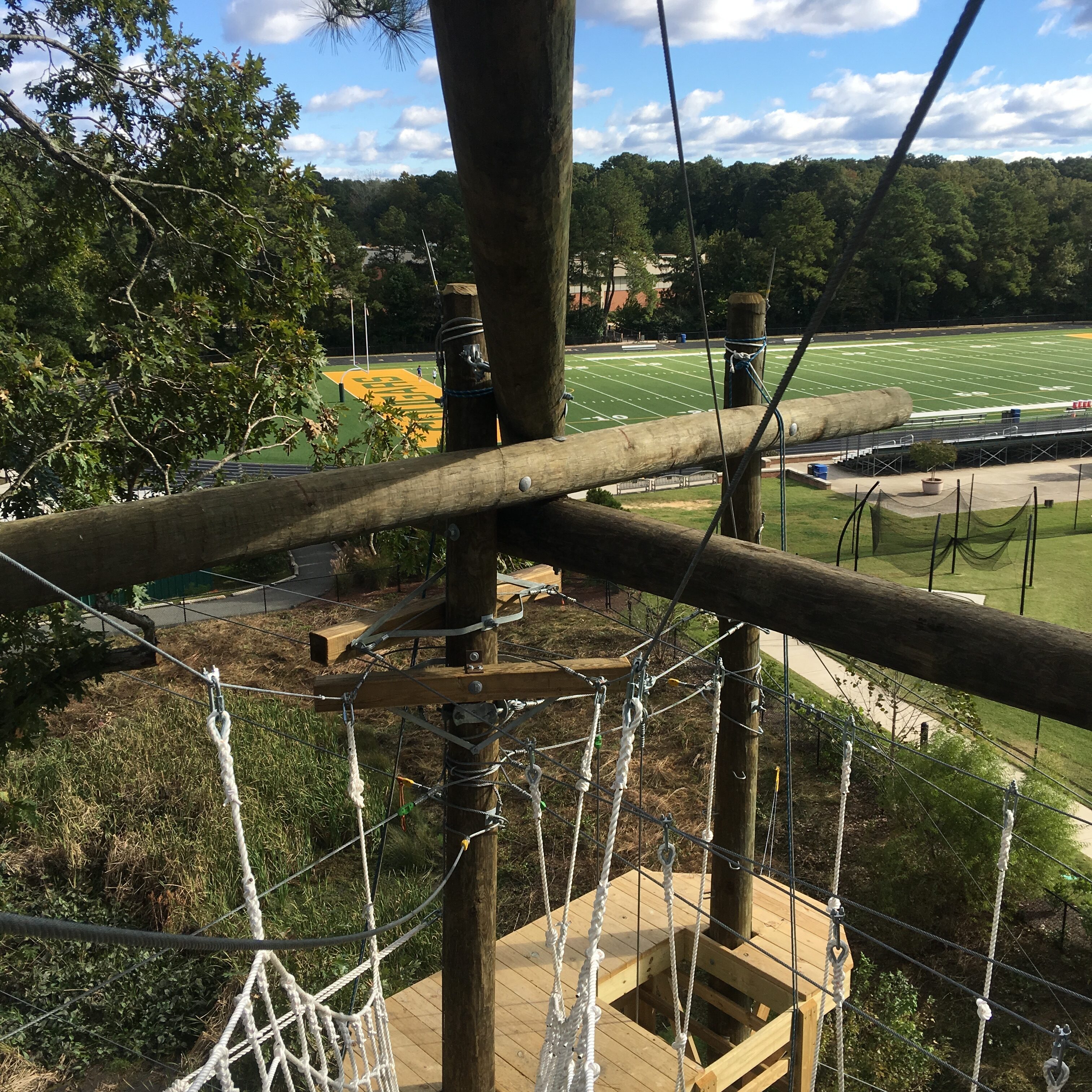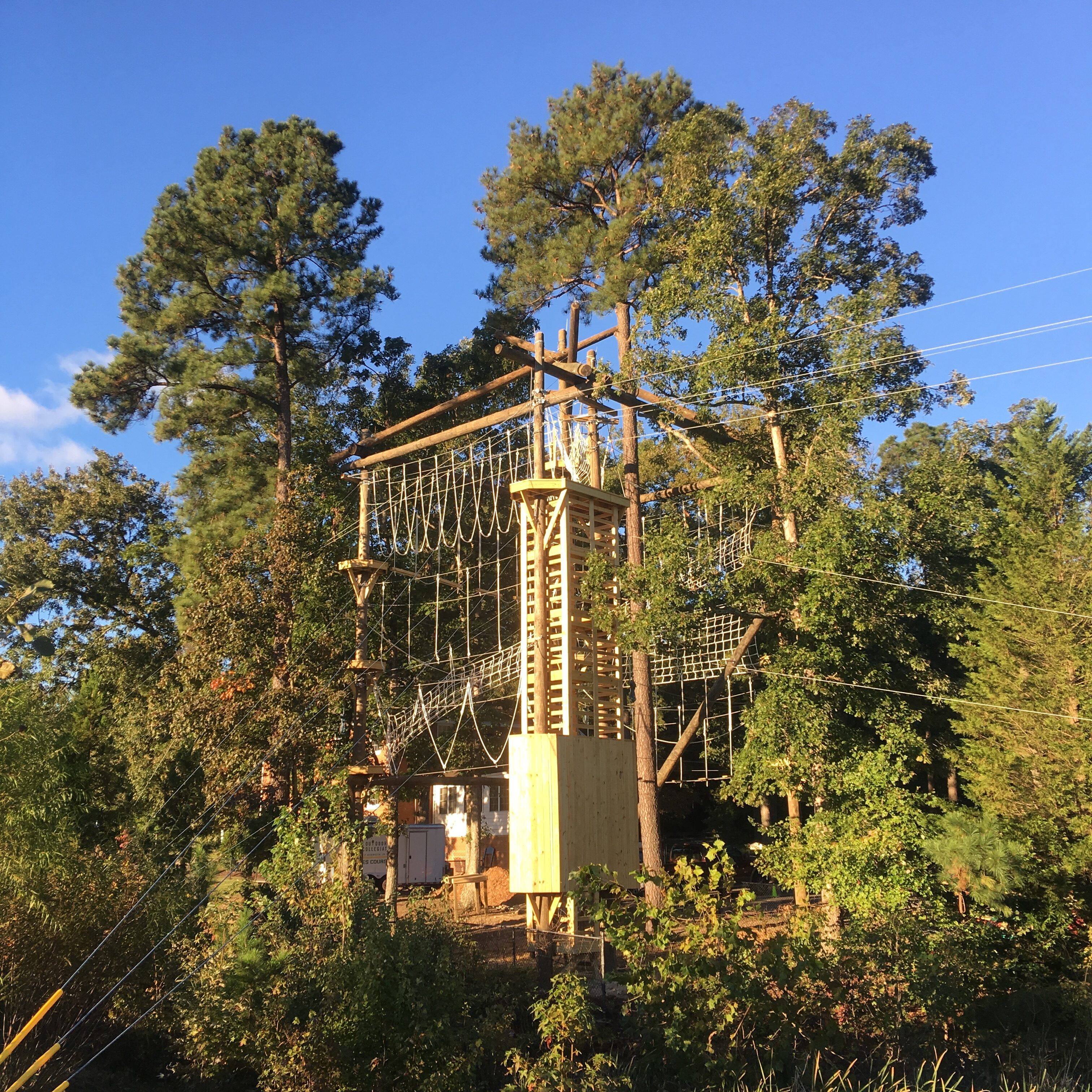 Meet Your Curriculum Goals and Foster Teamwork
Challenge Towers was able to build a pole-based course among the existing trees retaining the shaded nature of the site and giving easy access for Upper School biology students to conduct treetop species studies from the course platforms. Since its completion, the Collegiate School challenge course has hosted PE classes nearly every day, and has served as a learning laboratory for Upper School Science, Math, and English classes. They receive regular requests from sports teams wanting to increase teamwork and bonding and opened the challenge course to 8th graders needing to blow-off steam after their semester exams.
Personable and Professional Installers
When asked about his experience working with Challenge Towers, Brad Cooke, Director of Outdoor Collegiate at the Collegiate School stated "I really appreciate the fact that I can have a question come up on the course and I can pull out my phone and text one of the Challenge Towers people. They are always really quick to get back to me. I really appreciate knowing everyone there on a first name basis. I also really enjoyed getting to know the builders. They took time to explain everything they were doing, were incredibly professional and hard-working, and were also a lot of fun to get to know."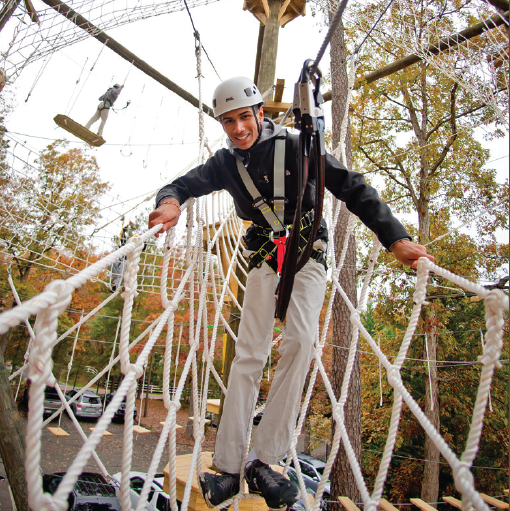 Ready for a Free Design Consultation for Your Outdoor Program?