Do not assume that just because you build it, they will come. Taking time to adequately research and plan your project is key to achieving your goals, whether they are to start a new business venture or add programming at a camp, resort, or conference center. Define your audience and their needs, outline your program and operation goals, and determine your fiscal objectives. Educate yourself about the options and opportunities for your project and find a vendor that will take the time to answer your questions and fill in the gaps.
Explore Different Operations
Visit a variety of facilities and talk to operators about their experience with the vendor they selected. Try to go during peak times and get a sense of the flow of people through the facility and efficiency of operations. Get a sense of how long the facility has been in operation and assess its overall condition. Do the belay cables and other rigging get in the way of users? Did the builder select high quality, low maintenance materials? What is the quality of finish work? Does the design excite and engage people? These are all important questions to ask yourself as you contemplate your project. Most importantly, have fun. Strap on a harness and push yourself. Develop a first-hand opinion about the course design, flow, and the equipment and systems used to support activity. Take notes and put together a list of likes, dislikes, and follow up questions for the builders you are evaluating.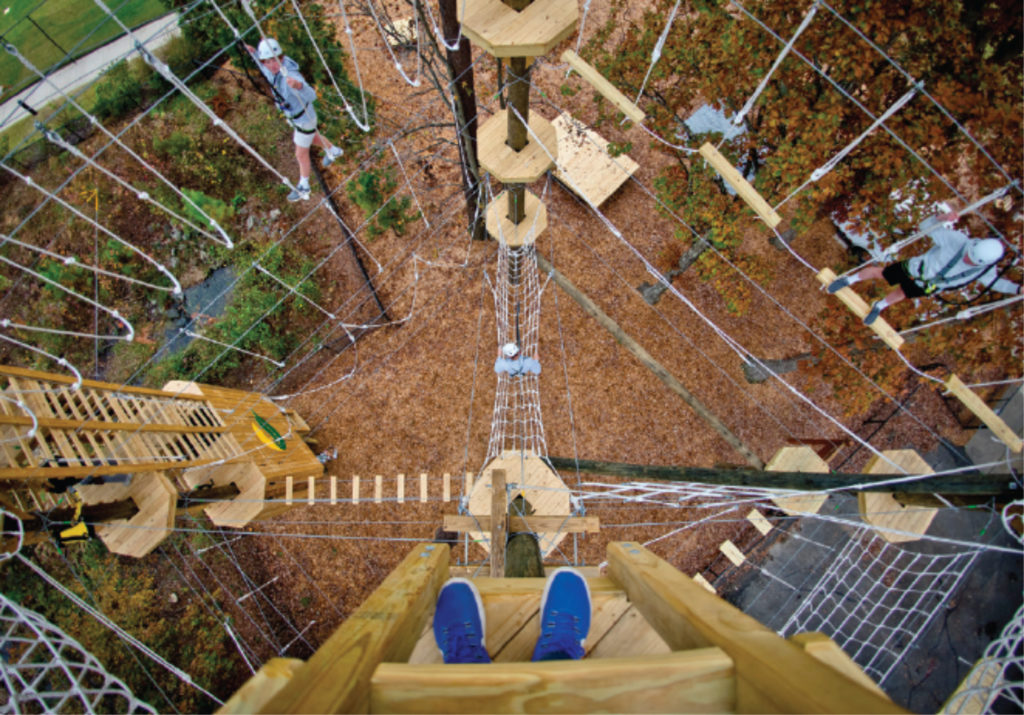 When building a commercial facility, research your intended market and identify the competition and what they have to offer. Mine for data that supports visitation and average ticket price projections for your location. Your builder should be able to give you critical insight for calculating return on investment including general capital expenditure targets and typical operating costs.
Understanding Permits and Regulations
Building code has not been developed with challenge course, aerial park, and zip line facilities in mind. Permitting and regulation requirements vary considerably based on the type and scale of project and who it is intended to serve. Make sure you research permitting and regulation requirements that may be in force for your municipality or state. Experienced builders will help you navigate standards, permitting, and regulations by assembling relevant documents, securing proper licensure, and completing proper testing and measures.
Determine the Scope and Timeframe
Establish your budget early and don't be afraid to share your parameters and limitations with vendors. The first job of a builder is to work with you to define project scope; a critical formula that includes both the facility scale and budget. Quickly arriving at scope consensus among stakeholders results in a more efficient and timely project cycle.
Timeframe for project development is another big variable to include in your initial planning. Simple projects may be ready for installation within as little as four weeks after first contacting a builder. More complex projects may require twelve or more months of design, engineering, and preparation before installation can begin. Understand your builders project cycle and know where you are likely to fit on their installation schedule once the development phases are completed. Most builders have a large influx of projects during the first half of the year as facilities are installed and prepared for the summer season. Consider scheduling your installation for late summer through early winter and achieve benefits including more scheduling flexibility, lower risk from adverse weather that can delay a project and increase the budget, and enjoy the opportunity to soft open ahead of the primary season.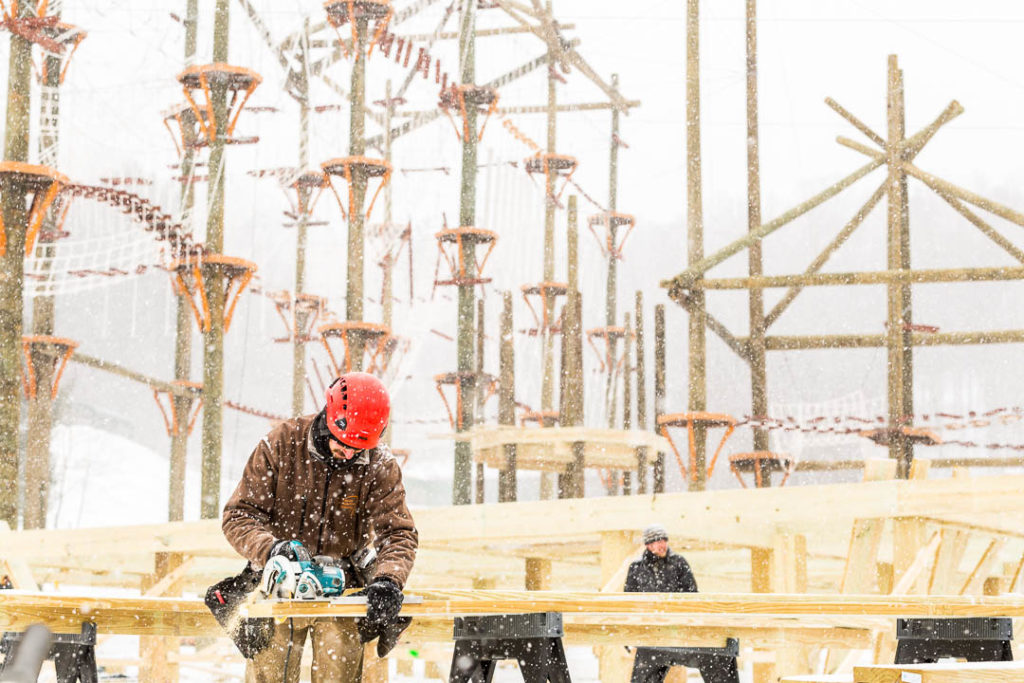 Talk Insurance Now
Don't wait to talk with an insurance professional as there is important information you should be aware of before the build starts. Pre-construction insurance including builder's risk and premise liability construction is highly encouraged. Operations policies will be based on how much revenue and payroll you project in your first year of operations and the total replacement cost of all property that will be onsite. You also want to understand what insurance programs are available and the base requirements to qualify. Many insurers will prefer a course built by an accredited ACCT PVM. Some insurance programs may provide incentive for using full body harnesses and smart or continuous belay. While you don't have to have worked in the industry previously to get insurance, your insurer will want to know your plan for hiring staff that is experienced. Many may require engineering documentation for the facility and prefer 40 hours of training by a 3rd party trainer.
Preplanning Pays Off
Make sure you take the time to research and plan for your project.  You will have a better experience, be more informed and confident, and save money by doing some of the critical project leg work up front.  Find a builder that can help you navigate permitting and standard requirements and set budget expectations early to move efficiently through development phases. Know your builder's project schedule and set realistic milestones for project completion. Most importantly, have fun and enjoy the venture of adventure.