Training and certification contribute to safe and efficient aerial park, challenge course, and zip line operations. Challenge Towers offers a variety of options, including both on-site training and Professional Development ACCT Level 1 and 2 Practitioner training and certification, Challenge Course Manager certification, advanced skills workshops, and other custom programs designed to meet the needs of unique operators. Regardless of the training you choose, our comprehensive programs equip industry professionals and your team with the skills and knowledge they need to succeed.
Benefits of Aerial Park & Challenge Course Training and Certification
Reduce Risk: Proper training equips your team with the skills and knowledge to identify risks and minimize accidents and injuries.
Compliance: Proper certification ensures that your facility complies with prevailing standards and regulations.
Credentials: Boost your resume with recognized certifications accredited by the Association for Challenge Course Technology.
Efficiency: A well-trained team can operate more efficiently, accomplishing more with fewer resources, reducing downtime, and increasing returns.
Happy Customers: Trained staff are more competent and confident, giving customers the best experience.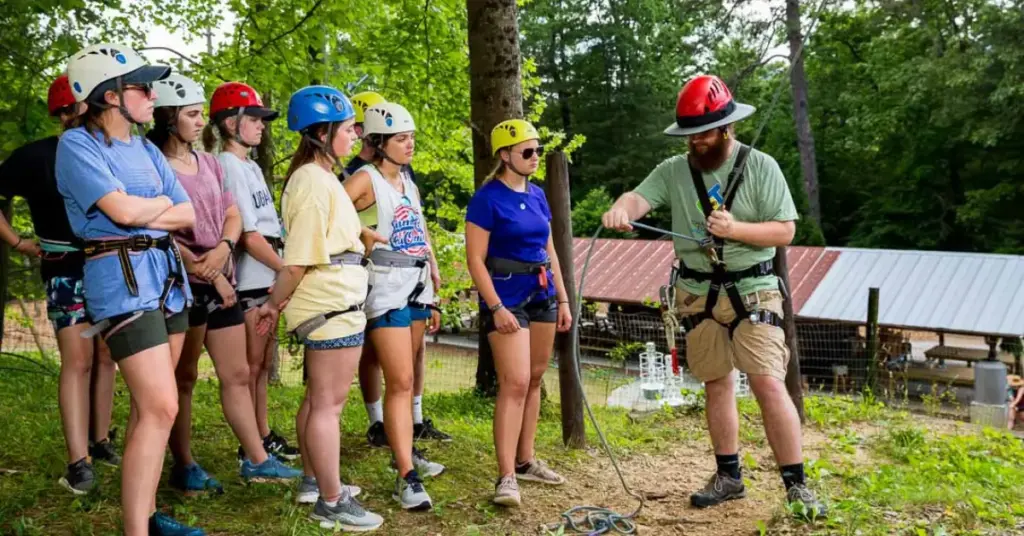 Training Options Offered by Challenge Towers
At Challenge Towers, we pride ourselves on delivering training programs of the highest quality, thoughtfully designed to meet (and often exceed) ACCT Standards. Our trainers are passionate educators committed to enhancing trainees' technical and facilitation abilities. Whether you are an industry professional or an adventure facility operator, we can help you achieve your goals. That's why we've designed our training sessions to be as varied and specific as the needs of your team, facility, and individual pursuits. We offer three training types, each tailored for maximum learning and growth. They include:
On-Site Training: Our seasoned trainers travel to your location and deliver a training program tailored to your specific course, equipment, and operational goals. We focus on supporting sound risk management policies and integrating your on-site procedures and practices. Elevate your operational standards by ensuring your staff have recognized credentials by adding ACCT-accredited certification to your on-site training.
Professional Development: Learn, certify, and stand out in your field with ACCT-accredited certifications, including Level 1 & 2 Facilitator and Challenge Course Manager from our Blowing Rock and Asheville, NC facilities. Take a deeper dive into the aerial adventure profession and add valuable credentials to your resume. 
Advanced Skills Workshops: Whether you're looking to hone advanced rescue skills, delve into the nuances of facility inspection, or better develop in-house resources for facility maintenance and repair, we've got you covered. We're committed to the continued development of essential skills, ensuring you and your organization achieve tangible benefits and long-term value.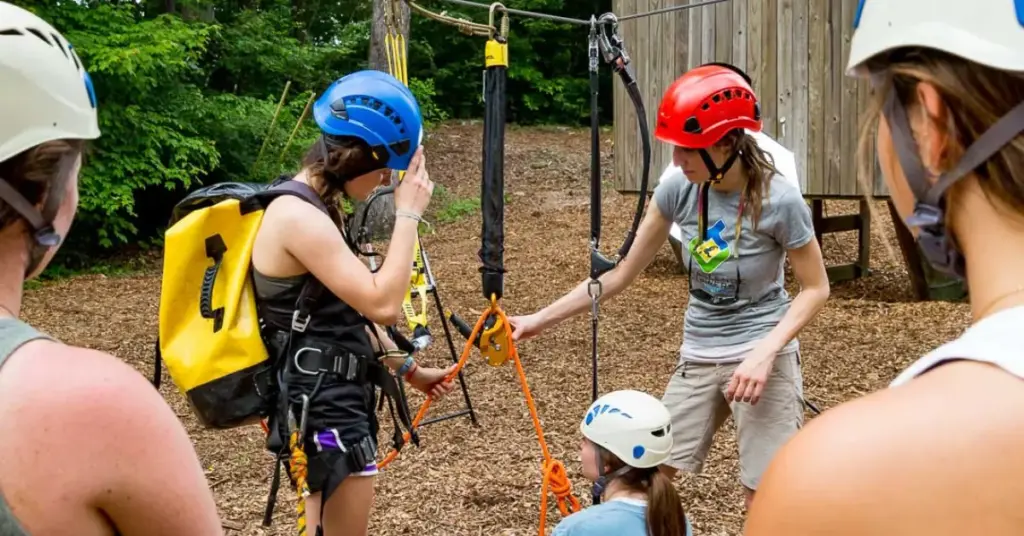 Regardless of the training you choose, we employ a blend of instructional methodologies to engage trainees effectively and authentically in the curriculum. This includes open discussions, live demonstrations, manual reviews, and hands-on skills application. For those training courses that lead to practitioner certification, expect rigorous skills verification through both written and practical assessments.
Challenge Towers has the distinct honor of being one of the first Professional Vendor Members accredited by the Association for Challenge Course Technology. We offer a comprehensive selection of both on-site training and professional development programs and certifications. Our approach is highly adaptive, aiming to meet every trainee where they are while molding our curriculum to suit their specific needs best.
Investing in the right training and certification courses is an investment in safety, efficiency, and success for industry professionals and aerial park and challenge course operators. Challenge Towers offers a variety of courses tailored to meet the unique needs of your team. Give us a call today to explore tailoring our training options to suit the unique requirements of your operation or to learn more about opportunities for individual training and certification.