---
Challenge course maintenance is probably the least exciting part of the outdoor adventure industry. Having a maintenance plan and keeping up with key items pays dividends in the long-run and make your operations run more smoothly with less interruptions.
Whether you have the staff to perform maintenance "in-house" or require an external service provider, routine upkeep of your adventure course is the number one thing you can do to protect your investment and extend the service life of your activities.
Maintenance work can include anything from screwing down loose deck boards to replacing an entire zip line cable. The skill sets need to perform maintenance work can also vary considerably, so there is no one-size-fits-all approach to keeping your course updated.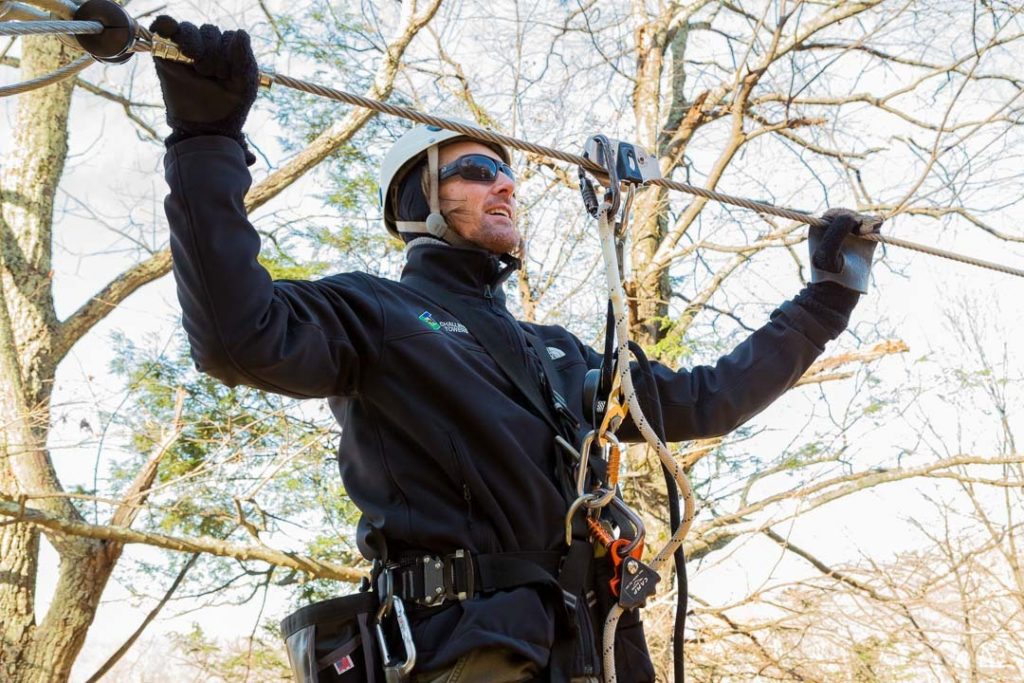 The following list of routine maintenance tasks are recommended at least every year, or on either end of your seasonal operations. Your course may require more frequent attention, especially high-use courses or facilities in environments that degrade course components more quickly.
Take down all equipment, including pulleys, trolleys, carabiners, descent devices, belay systems, and rope. Store in a cool, dry location, out of direct sunlight.
Clean all wood surfaces of debris, mildew, and algae. Buildup of these substances can promote decay, shorten the lifespan of the material, or become a hazard for participants. This is especially critical for components in dense shade, elements on or near the ground, or structures prone to catching falling debris.
Apply wood preservative to all wood structures, including platforms, poles, element timbers, and structural components. UV light and precipitation can damage unprotected lumber, even pressure-treated wood. Apply wood preservative at least every two years, or every year in high-use or exposed environments.
Tighten nuts and other hardware that may have loosened from use or lumber shrinkage. Loose hardware can lead to insufficient tension on cables and premature component wear and fatigue.
Expose heads of ground anchors to facilitate routine inspections. Apply mulch or weed-suppressing ground cover around anchor heads to keep vegetation from quickly regrowing.
Maintain adequate clearance around all activities. Remove limbs, logs, rocks, or stumps participants may impact during operations. Clear zip line and guy cable corridors of encroaching vegetation. Repair any damage to exclusionary fencing.
Tighten climbing holds that spin or shift when weighted. Replace any cracked holds, rusted bolts, or stripped nuts.
Torque cable clamp nuts to manufacturer recommended specifications. Clamps are frequently located on guy cables, zip lines, activity structures, and belay cables.
Ensure all descent, belay, and zip brake technologies are serviced in accordance with the manufacturer's recommendations. Send units to the necessary service provider or contact Challenge Towers to determine your units' service needs.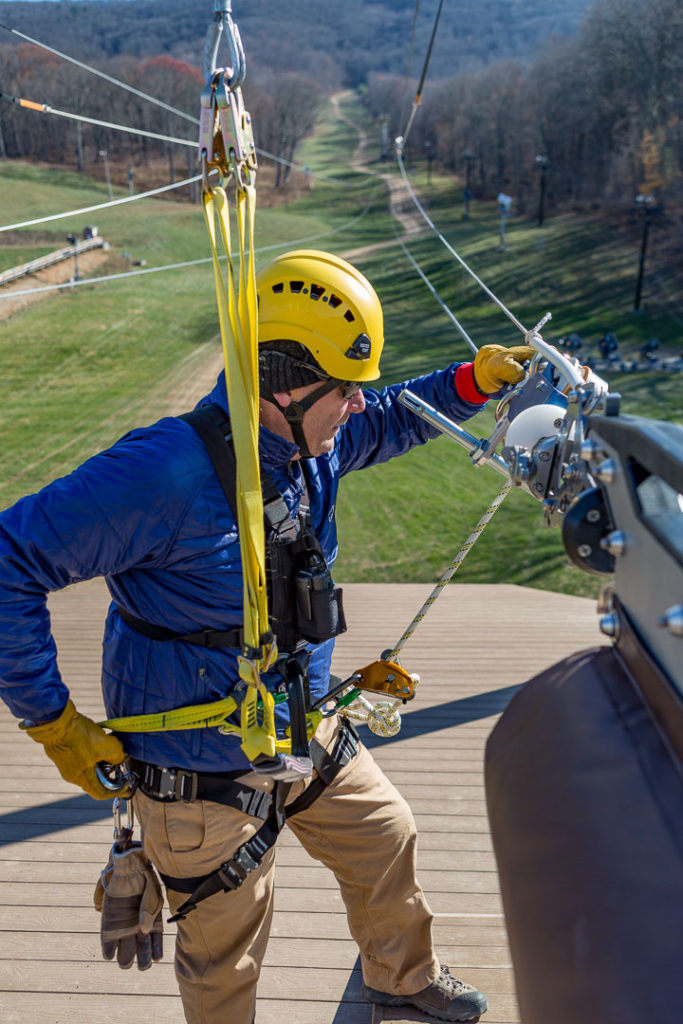 Most of the care and maintenance outlined above can be perform with in-house staff and will measurably extend the life of your facility. If you need asistance, Challenge Towers' team of professionals can provide consult specific to the needs of your facility and perform a wide range of maintenance and repair services to keep you operating safely and efficiently, including:
Zip cable, guy cable, belay cable, or element cable tensioning and cable replacement.
Element reconstruction or new element installation.
Platform restoration and replacement.
Climbing wall façade "reskinning" and hold replacement.
Hardware replacement, including cable clamps, rapid links, bolts, and staples.
Element rope and cargo net replacement.
Click here to learn more about our full range of Professional Services.