Training Documentation Requisites
B.2. Training Documentation Requisites
B.2.1. Training Records: Training shall be documented to include and not be limited to: trainees who were present, date, time, trainer, location, content, training objectives and completion.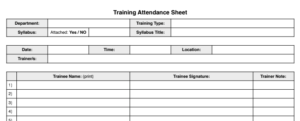 B.2.2. Training Syllabi: Training agenda shall be accurate to the training delivered and made available to each trainee.
This could be an accurate and current operations manual, a basic list of learning objectives, or a training skills assessment record.