The following information is adapted from the ACCT Standards. Please refer to the Standards for a more complete understanding of the scope of inspections. Not all of the below information will be applicable to every challenge course, aerial adventure, or zip line.
Access Limitation
The need to limit access to elements by unauthorized personnel shall be evaluated for each course. Where there is likelihood of an injury due to access by an unauthorized user, steps should be taken to identify, warn, and physically limit access to the course. During inspections pay particular attention to signs of unauthorized access and determine what should be done to enhance your access limitation.
Wood Poles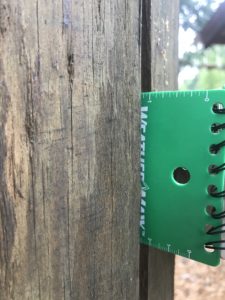 Wood poles are used as critical element support structures and should be inspected at regular intervals. Poles should be visually inspected for vertical checks and through splits, horizontal cracks, decay pockets, shakes, shell rot, and other defects that ay affect pole strength and integrity. Additional consideration shall be made for potential ground line decay, pole top degradation and shrinkage that may result in loosening of hardware. Ensuring poles are still plumb will help maintain the challenge course element tension and spacing. Guy wire or element adjustment may be necessary if poles are leaning due to course settling, high winds etc. An inspector should also ensure that the poles do not appear to have any physical damage due to lightning, vandalism etc. Soil around the base of the poles should be monitored and backfilled as needed.
Trees
Trees are used as critical element support structures and should be inspected at regular intervals. Trees should be inspected to determine that they are living and in generally good health condition. Trees should be visually inspected for any evidence of degradation, and for any evidence of possible causes to the health condition of the tree. These include but are not limited to bug infestation, lightning strikes, inappropriate leaning, etc.
Guy Wires
Guy wires are typically cables attached between element support structures and ground or tree anchors. They should be visually inspected for proper tension to ensure that element support structures remain plumb and secure and prevent excessive course movement due to high winds, daily use, or other environmental factors. Anchorages, cables, and connectors shall be inspected for material defect, stress deformity, corrosion, pitting etc.
Life Safety Systems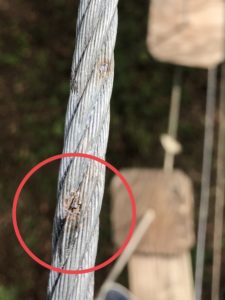 Inspection of wire rope used in lifelines shall include an assessment of the entire span, including termination points, operational wear and fatigue points. A wire rope lifeline shall be retired from service when any one of the following occurs:
The reduction in nominal diameter due to tension, wire breaks, surface wear, metal loss or corrosion amounts to 5% or more from the original diameter. (e.g. ½"=.475)
The crown (surface) wires are worn by 1/3 or more of their diameter
There are 6 or more broken wires in one lay
There are 3 or more broken wires in one strand in one lay
There are 1 or more broken wires within one wire rope diameter of an attached fitting due to fatigue
Cable Terminations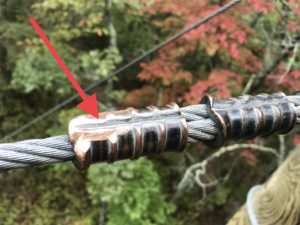 Wire rope clips, and swaged fittings are typically used as cable terminations on adventure courses. Specific inspection information on each of these terminations is listed below:
Wire rope clips such as cable clamps or fist grips should be inspected for the negative effects from broken wires at the turn of the eye, corrosion, deformities, etc. Wire rope clips should be checked and maintained to ensure proper torque. Manufacturer recommendations regarding proper torque shall be followed.
Swaged fittings should be inspected for the negative effects from broken wires at the turn of the eye, corrosion, and deformities such as cracks and splits.
Rope and Webbing terminations
Inspection of rope and webbing on the course should assess the material integrity and negative effects from wear, abrasion, milking, kinks, cuts, broken fibers, discoloration, and the effect of UV exposure.
Structural Steel Beams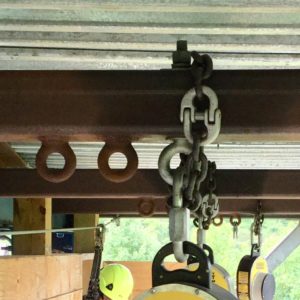 Steel beams used on courses for structural support should be inspected to ensure integrity of materials. Steel should be visually inspected for unusual deflection or yielding and shall also include scrutiny of welds, connecting hardware, suspension components, damage or defects resulting from wear, abrasion, surface corrosion (rust, pitting, etc.) and corrosion of metal components.
Bolt and Bracket Anchorages
Inspection shall include proper installation and fastener torque and negative effects from deflection, distortion, rust, corrosion, pitting that may effect the ability of the bolt or bracket to support the expected load, quality of welds and the misalignment with the expected load.
Screw Anchors in Wood Products
Inspection shall rely on external signs of deterioration due to the negative effects from damage due to cracks or decay in the wood around the screw, severe nicks, gouges, excessive wear or abrasion, pitting or corrosion. Conditions warranting increased scrutiny include visible yielding of the screw or anchorage, looseness of the screw in the wood, or evidence of heat damage or discoloration (potential causes include lightning strikes or fire).
Element Support Systems
Elements shall be inspected using the criteria listed above for all components. They should also be continually evaluated to ensure the element does not expose guests to unusual risk due to design or element placement.
Platforms
Visually asses the supports, frame, joists, decking, and fasteners used in platform construction and assess platform integrity based on the negative effects from rot and wood degradation, UV damage and exposure to adverse weather, component defects and deformities. Wood preservatives should be applied as needed.