Challenge Course operators often ask "can any of my in-house staff do the periodic inspections of my course"? The ACCT Standards state that "The organization shall implement and document an on-going system of monitoring all components at an interval specified by the designer, manufacturer, or other qualified person". It then goes on to clarify that "The inspector may be an employee of the Owner, but should have additional inspection training beyond that provided to employees who perform pre-use checks. Specifically, performing pre-use checks is part of regular operational duties and is NOT sufficient training for conducting periodic monitoring."
The ACCT Qualified Course Professional (QCP) guidelines outline what it takes to be a qualified inspector who works for a vendor (i.e. a PVM) inspecting challenge course facilities, and these guidelines are often used as a roadmap for organizations to determine how their staff compare. The standards are summarized below (please see the full QCP guidelines for more details):
INSPECTOR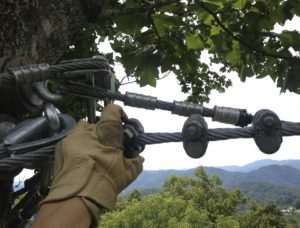 The Qualified Inspector SHALL have significant installation experience. The Qualified Inspector SHALL also have significant knowledge and understanding of the operational requirements of the course ELEMENTS he/she inspects. The Qualified Inspector SHALL be familiar with a wide variety of course designs and operating systems beyond those used by his/her own company, have familiarity with the types of structures to be inspected, have a clear understanding of his/her own limitations, and consult other professionals when required.
Each Qualified Inspector SHALL meet the criteria listed below and SHALL have Mastery of all the standards listed in the ANSI/ACCT 03-2016 Challenge Courses and Canopy/Zip Line Tours Standards, Chapter 1: Design, Performance and Inspection Standards Qualified Inspectors may also possess an ACCT Inspector Certification in good standing.
Be a minimum of 21 years old.
Demonstrate skill, experience, and training to be considered a COMPETENT PERSON with regard to worker safety and fall protection.
Have a demonstrated ability to inspect course ELEMENTS in accordance with ACCT Challenge Course Standards.
Demonstrate in-depth knowledge of a wide variety of challenge course and canopy/zip line tour designs, building techniques, equipment, materials, and systems.
Demonstrate participation in ongoing professional development.
Have a minimum of 150 documented course builder days.
Have performed a minimum of 12 inspections under the supervision of a Qualified Inspector. These days assume a minimum number of inspections for each type of installation to be inspected, such as trees, poles, indoor, steel structures, and/or specialty builds.
Have a full understanding of the various course ELEMENTS he/she inspects including the operational procedures.
Demonstrate his/her ability to consult with course designers and other professionals.