The ACCT standards specify a few things about policies and procedures an operation should have in place and follow in the hiring process.
B.3.1. The organization shall have employment policies in place.
B.3.3. The organization shall define adequate minimum qualifications for all staff.
The minimum qualifications may address age, educational requirements, prior experience, necessary skills or competencies, specific job responsibilities and duties, and essential functions.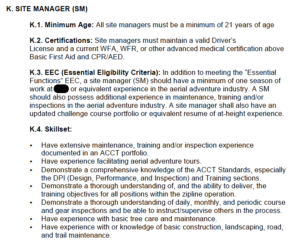 B.3.4. The organization shall have an appropriate screening process in place for staff.
Screening procedures may include but are not limited to: having candidates complete a written application; face-to-face or telephone interviews; reference check; medical examinations; review of driving record; and criminal background check.