Have you ever dreamed of jumping into the unknown? Or stepping out into thin air without a parachute? Now you can experience the ultimate rush with our unique Powerfan technology, the best freefall simulation on the market for outdoor or indoor use. Originally developed for paratrooper training by the British military, the Powerfan is a thrill-seeker's paradise, allowing guests to experience a heart-pounding adventure like no other, as they plummet up to 98 feet in a controlled, simulated freefall that offers a smooth transition from freefall to the ground with no feeling of a jolt when slowing down for the landing.
And now you can experience the thrill of the Powerfan without paying top dollar for your own unit. Our sister company, Aerial Adventure Tech, is now offering a leasing program that gives you the option to rent a Powerfan unit for up to two years. The least expensive Powerfan unit could cost around $11,680, but through AAT's leasing program, you could rent one for two years for only $3,900, maximizing your ROI through this wildly popular attraction.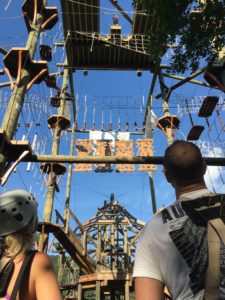 Worried about operating it on your own? Don't be. It's easy to train operators to use, the open construction allows you to see every moving part of the device for a more thorough daily inspection without any extra effort on the operator's side.
Plus, we offer great service and support. Challenge Towers is the North American Powerfan service center and we can send someone onsite to conduct the service, or we can service here in North Carolina as needed.  We have a handful of team members that have been trained and certified directly by Dropzone to provide this service.
Each Powerfan is hand-built by highly trained engineers in the UK with high quality materials and are required to meet rigorous safety standards. Every Powerfan must have a detailed inspection and service every 2 years or 250,000 descents, whichever occurs first.  The service must be performed by a technician trained and authorized by Dropzone (UK) Ltd.  The Drop must be replaced after one year of use or every 20,000 descents, which is included in one and two-year leases
The Powerfan freefall is great as a standalone activity or it can be implemented to ropes courses as an exit point for zip lines or canopy tours. It serves as the grand finale at our very own ACCT award-winning canopy tour at High Gravity Adventures and has been earning rave reviews from guests since its installation last year. It has been called "breathtaking," "exhilarating," and "an experience that I'd love to do all over again." If you want to take the thrill of your course to the next level, the Powerfan is the perfect way to provide guests with an experience they will never forget.